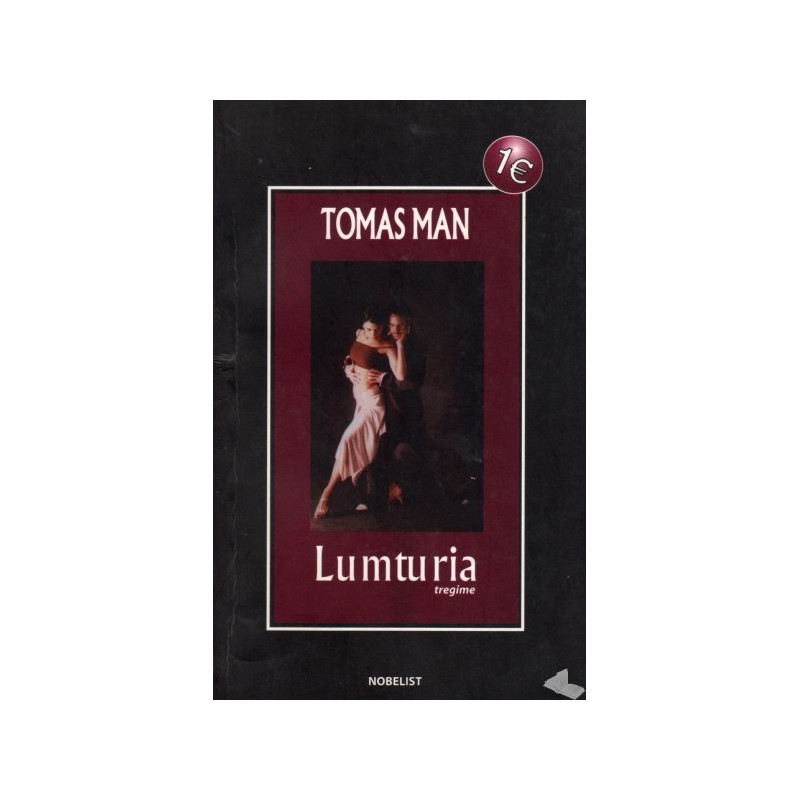  
Lumturia, Tomas Man
Title: Lumturia
Category: Novel
Author: Tomas Man
Albanian translator: Gëzim Halilaj
Publisher: ABC
Year: 2007
Pgs. 137
Weight: 0.14 kg
ISBN: 978-99943-890-7-0
Reference: SKU000256
Title: Tonio KrëgeriCategory: NovelAuthor: Tomas ManAlbanian translator: Donika OmariPublisher: ABCYear: 2007Pgs. 96Weight: 0.10 kg  
Reference: SKU000555
Publisher: OMSCA-1
Title: Budenbrokët, Historia e rënies së një familjeje, vëllimi lOriginal: Buddenbrooks, Verfall einer familieCategory: NovelAuthor: Tomas ManAlbanian translator: Klio EvangjeliPublisher: Omsca-1Year: 2004Pgs. 376Weight: 0.37 kgISBN: 978-99927-40-95-7  
Reference: SKU000556
Publisher: OMSCA-1
Title: Budenbrokët, historia e rënies së një familjeje, vëllimi llOriginal: Buddenbrooks, Verfall einer familieCategory: NovelAuthor: Tomas ManAlbanian translator: Klio EvangjeliPublisher: Omsca-1Year: 2004Pgs. 344Weight: 0.35 kgISBN: 978-99927-40-96-5  
16 other products in the same category:
Publisher: Skanderbeg Books
Çfarë na ndodh kur befas toka lëkundet nën këmbët tona dhe muret e shtëpisë na dridhen papandehur, duke ta shembur ndjesinë e sigurisë së truallit të fortë ku po rri? Pasojat janë shumë të pakëndshme. Të gjashtë historitë e këtij libri eksplorojnë pasojat psikologjike që mund të ketë një tërmet, edhe sikur ai të ndodhë shumë larg.
Price
ALL720
Regular price
ALL800
 In stock
Publisher: Pegi
Ngjarjet e këtij romani rrëfehen nga mazhordomi Stivens, i cili për më shumë se tridhjetë vjet ka jetuar në Darlington Holl, rezidenca madhështore e lordit Darlington. Stivensi rrëfen një pjesë të jetës së tij, diku nga mesi i viteve '30, një periudhë e ngarkuar për të personalisht, por edhe për historinë e Anglisë dhe të Evropës.
Reference: SKU000063
Publisher: Botimet Dudaj
Çfarë është ujku i stepës i hermann hesse-s: Një roman, një traktat estetik apo një testament shpirtëror? Zor se mund t'i përgjigjesh kësaj pyetjeje. vetë shkrimtari, i cili e shënjonte këtë vepër si më të dashurën e tij.
Reference: SKU000444
Publisher: Koha Ditore
Title: Vilet e zemërimit (hard cover)Original: The grapes of wrathCategory: NovelAuthor: Xhon StajnbekAlbanian translator: Petro ZhejiPublisher: Koha DitoreYear: 2005Pgs. 576Weight: 0.66 kgISBN: 84-9819-047-9  
Reference: 2266
Publisher: OMBRA GVG
Kjo vepër u cilësua si metaforë e Satanait nga Tomas Eliot. Romani "Perëndia e mizave" u bë shumë shpejt letërsia e preferuar e studentëve universitarë. "Perëndia e mizave" përcillet nga format e utopisë negative. Ai analizon sjelljen e një grupi nxënësish britanikë, që si pasojë e një fatkeqësie ajrore, braktisen në një ishull.
Publisher: Albas
Akoma më e ankthshme bëhet gjendja, kur i bie në dorë ditari i saj. Kjo vdekje e mistershme do të bashkojë përjetë katër miq: personazhin kryesor, Kurtin, Edgarin dhe Georgun, të cilët së bashku do përpiqen t'u bëjnë ballë përndjekjeve, spiunimit, dhunës dhe mungesave të panumërta.
Reference: SKU000600
Publisher: Skanderbeg Books
"Kështjella e bardhë" është një roman i shkurtër, një dialog i lirë rreth modernizimit dhe ironisë së tij. Rrëfyesi në vepër është një dijetar dhe inxhinier i ri venecian, i rrëmbyer nga turqit gjatë udhëtimit të tij me anije nga Venecia në Napoli.
Publisher: Fan Noli
Farsë ose satirë, pjesa e Jean – Paul Sartre – it, është plot tipare të vrazhda; ajo të befason me situatat e papritura. "Le të largohet lufta, por jo nga faqja e parë e gazetës." Kjo batutë i jep tonin pjesës "Nekrassov". Ky është "toni i madh" i teatrit.
Reference: SKU000597
Publisher: Skanderbeg Books
Një grup i zgjedhur miniaturistësh të oborrit të Sulltan Muratit III, janë ngarkuar të përgatisin librin që i plotpushtetshmi i Lindjes do t'ia bëjë dhuratë një të plotpushtetshmi në Perëndim.
Reference: SKU001131
Publisher: Botimet Dudaj
Title: Ungjilli sipas Jezu KrishtitCategory: NovelAutori: Jose SaramagoAlbanian translator: Nasi LeraShtëpia botuese: DudajYear: 2009Pgs. 412Weight: 0.35 kgISBN: 078-99943-0-135-5