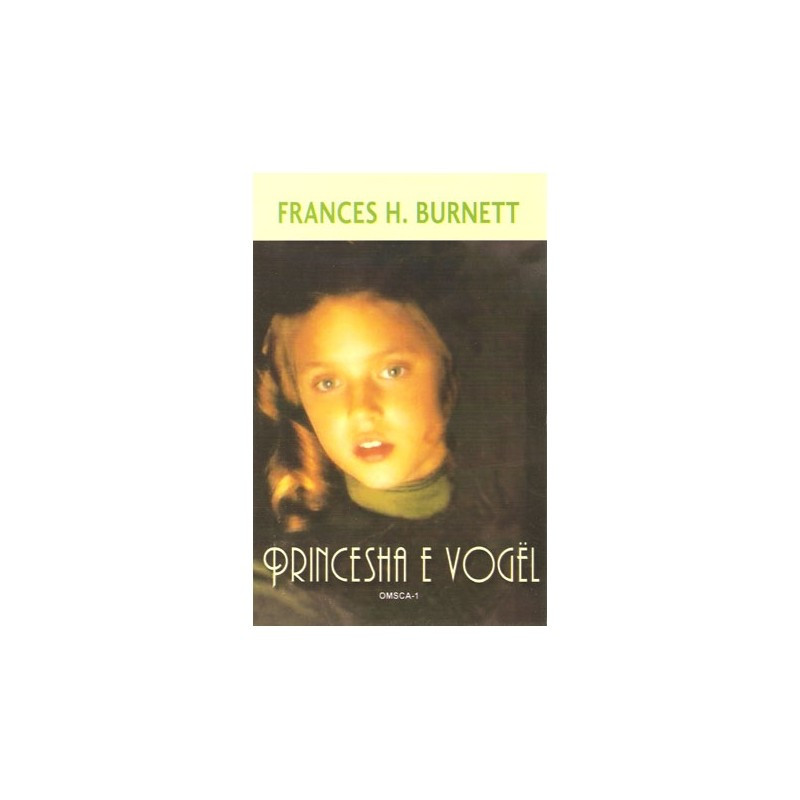  
Princesha e vogel, Frances H. Burnett
Reference: SKU000493
Publisher: OMSCA-1
Reference: SKU000511
Publisher: OMSCA-1
Title: Kopshti i fshehtëOriginal: The secret gardenCategory: NovelAuthor: Frances H. BurnettAlbanian translator: Sokrat GjerasiPublisher: OMSCA-1Year: 2006Pgs. 240Weight: 0.291 kg
16 other products in the same category:
Publisher: Albas
Ndonjëherë, për të shpëtuar botën, nuk mjaftojnë dijet dhe teknologjia, por duhet bota fëminore, fantazia dhe aftësia e tyre për të besuar tek e pamundura, duke shndërruar kështu çdo përrallë të bukur në realitet.
Price
ALL720
Regular price
ALL800
 In stock
Publisher: Te tjere
His memories of boyhood and youth were Mark Twain inspiration for Tom Sawyer, set in a small township on the shores of the Mississippi River, similar to that where the author lived in the earliest years of his life, Hannibal, Missouri, in the south of the USA, where at the time slavery still existed.
Publisher: Te tjere
Stivenson wrote Treasure Island when he saw his nephew use watercolours to paint the map of an island. He begain to give the island names: Skeleton Island or Spyglas Hill, until finally writting ''Treasure Island'' in the upper right-hand part of the page. After a long illness, he died on the islan of Upolu, in the south Pacific, where he was living at...
Publisher: Ideart
Deni Dingëlli – i rrezikshëm për fqinjët dhe kërcënim për kafshët e tyre shtëpiake – është rikthyer! Ndodhi që, duke provuar nëse funksiononte apo jo shpikja e tyre më e re, rrezengrirësi, ngordhi kameleoni fitues i disa çmimeve të zotit Nesbit. Kështu, "për të mësuar disiplinën", Deni dhe Persi dërgohen të ndjekin kursin e xhuxhicusë... 
Price
ALL630
Regular price
ALL700
 In stock
Publisher: Te tjere
Verne, besides including the latest scientific advances of the time in his novels, anticipated many others, like travelling in space or under water. He studied law but he soon decided to write. His first novel, Five Weeks in a Balloon, made him so famous that he went on writing fantastic adventure stories.
Price
ALL270
Regular price
ALL300
 In stock
Publisher: Aeditions
Historia zë fill kur vigani rrëmben zotin Karotëz dhe e mbyll në burgun e kështjellës së tij. A do t'ia dalin miqtë tanë ta çlirojnë zotin Karotëz nga kthetrat e viganit të keq? 
Price
ALL360
Regular price
ALL400
 In stock
Reference: K8R5
Publisher: Bota Shqiptare
Ishte një natë e errët me stuhi... Megi Mari, vëllai i saj i vogël Carls-Uollsi dhe nëna e tyre kishin zbritur në kuzhinë për të ngrënë diçka në mesnatë, kur në shtëpinë e tyre vjen nje grua e huaj mjaft e çuditshme. 
Price
ALL720
Regular price
ALL800
 In stock
Reference: SKU000612
Publisher: Ideart
Publisher: Arka e Noes
Zozo, një djalë çapkën e trimosh, është personazhi që del nga Ipadi dhe shëtit të gjithë botën duke u ardhur në ndihmë të gjithë fëmijëve që gjenden në ndonjë situatë të vështirë. 
Price
ALL540
Regular price
ALL600
 In stock
Publisher: Aeditions
Një seri e mrekullueshme, e ngrohtë dhe plot humor, që do t'i shoqërojë të vegjlit tuaj, teksa hedhin hapat e parë të jetës.
Publisher: Bota Shqiptare
Libri "Më mëso të shkruaj, Kafshët" është pjesë e një serie me 4 libra, të cilët përbëjnë një risi për fëmijët. Nëpërmjet figurave tërheqëse dhe shumëngjyrëshe, fëmijët do të mësojnë me shumë kënaqësi llojet e kafshëve duke përdorur këtë libër ndërveprues. 
Price
ALL360
Regular price
ALL400
 In stock
Publisher: Botart
Hëmm, gabim! Kur mamaja e saj thotë që kjo festë është me një kosto të pa përballueshme, duket sikur kjo festë ëndrrash do të kthehet në katastrofë. Shoqet e saj hartojne një plan për ta shpëtuar festën, a do ja dalin vallë?
Price
ALL900
Regular price
ALL1,000
 In stock