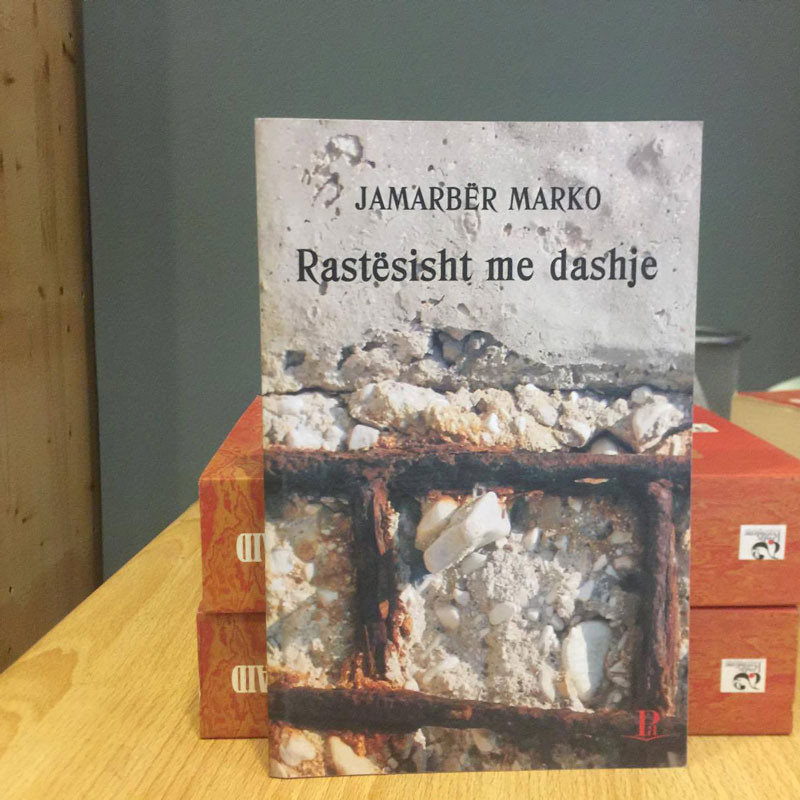  
Rastësisht me dashje, Jamarbër Marko
Unë jam loti
Ti je syri
Jam pranë teje
Për të zbutur dhimbjen
E në të vërtetë
Bie poshtë
Për  t'u shfaqur në fytyrën e një tjetri
Unë jam syri
Ti je loti
Title: Rastësisht me dashje
Category: Poetry
Author: Jamarbër Marko
Publisher: Pa
Year: 2013
Pgs: 96
Weight: 0.128 kg
ISBN: 978-9951-613-08-8
Reference: SKU000300
Publisher: Cabej
Title: Rastësisht me dashjePoetryAuthor: Jamarbër MarkoPublisher: Çabej Year: 1995Pgs. 96Weight: 0.15 Kg.
16 other products in the same category:
Reference: SKU001992
Publisher: Te tjere
Reference: SKU000549
Publisher: OMSCA-1
Title: Thesaret e frikës (Treasures of Fear)Poezi (Poetry)Author: Visar ZhitiPublisher: OMSCA-1, Year: 2005Pgs. 248Weight: 0.29 kgISBN: 978-99927-52-61-0
Reference: 2658
Publisher: Mitrush Kuteli
Title: Poem kosovar dhe Poemi i ShëndaumitOriginal: Poem kosovar dhe Poemi i ShëndaumitCategory: PoemAuthor: Mitrush KuteliPublisher: Mitrush KuteliYear: 2009Pgs. 104Weight: 0.118 kgISBN: 978-99927-624-8-6  
Publisher: Te tjere
I am ultimately as unknown to myself, as you are to yourself. We are each like unsolved puzzles that are longing to be found and solved. We are each like empty scripts that are waiting to be written upon, poems that are screaming to be composed or lyrics yet to be sung.
Reference: SKU001060
Publisher: Dija-Poradeci
Title: Mos e ndiqni hijen (Don't follow the shadow)Poezi (poetry)Author: Edmond ShallvariPublisher: Dija-Poradeci, 2009Pgs. 96Weight: 0.09 kgISBN: 978-99956-743-4-4
Reference: SKU001983
Publisher: Vernon Publishing
Title: Këngë të rejaOriginal: Këngë të rejaCategory: PoetryAuthor: Migena RamajPublisher: Vernon PublishingYear: 2011Pgs. 88Weight: 0.13 kgISBN: 978-9928-104-14-4
Reference: SKU000957
Publisher: Dija-Poradeci
Title: Vikama e qiellit të braktisurPoetryAuthor: Bedri HoxhaPublisher: Dija-PoradeciPgs. 80Weight: 0.08 kgISBN: 978-99956-826-0-6
Reference: 2349
Publisher: Te tjere
Title: Rabini i pasyOriginal: Rabini i pasyCategory: PoetryAuthor: Lisandri KolaPublisher: Camaj – PipaYear: 2008Pgs. 82Weight: 0.12 kgISBN: 978-99956-02-54-3
Reference: SKU001311
Publisher: Te tjere
Title: Polimnia dhe Melpomena 2PoetryPersonal Anthology (1937-2003)Author: Kasëm TrebeshinaPublisher: Faik KonicaPlace and Year:  Prishtinë, 2004Pgs. 516Weight: 0.61 kgISBN: 99951-06-142-7