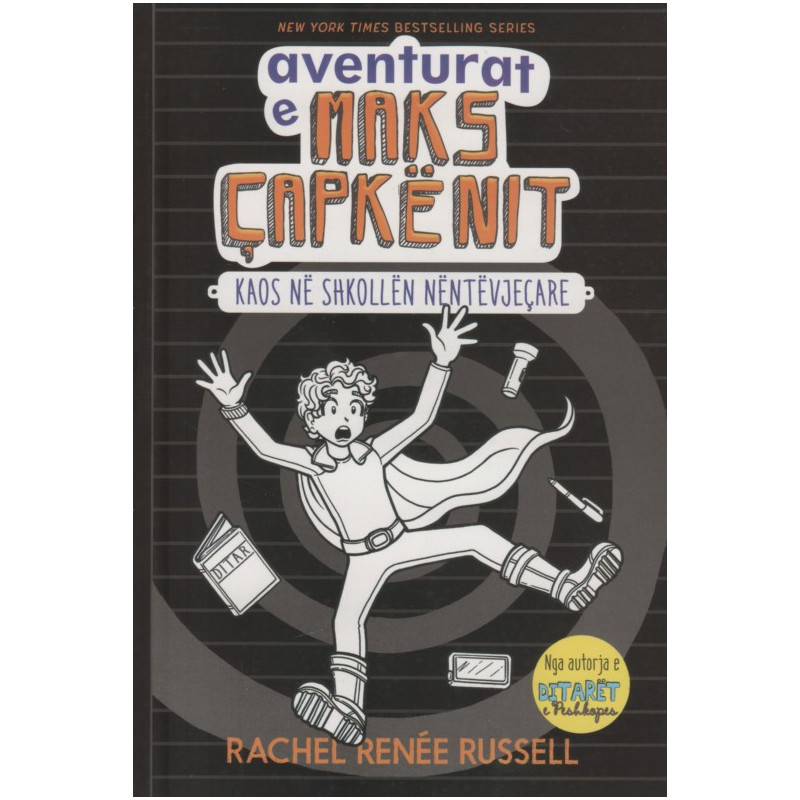  
Aventurat e Maks Capkenit, kaos ne shkollen nentevjecare, Rachel Renee Russell, vol. 2
Title: Aventurat e Maks Çapkënit, kaos në shkollën nëntëvjeçare, vëllimi i dytë
Original: The misadventures of Max Crumby 2, Middle School Mayhem
Category: Novel
Author: Rachel Renée Russell
Albanian translator: Elda Beta
Publisher: Botart
Year: 2018
Pgs: 232
Weight: 0.301 kg.
ISBN: 978-9928-219-79-4
16 other products in the same category:
Reference: 2956
Publisher: Morava
Title: Shtëpia Magjike mbi Pemë 18, Bizonët përpara mëngjesitOriginal: Buffalo before breakfastCategory: NovelAuthor: Mary Pope OsborneAlbanian translator: Adela MoravaPublisher: Botimet MoravaYear: 2009Pgs. 74Weight: 0.111 kgISBN: 978-99956-26-59-4
Publisher: Aeditions
Tomi dhe Peni, dy miq të pandarë, do të gjenden befas mes rrokaqiejsh të një qyteti pa anë e pa fund, ku vërtiten personazhe të çuditshme dhe ku fshihen shumë gracka. A do të mjaftojë miqësia e tyre për t'iu kundërvënë keqbërësve, që duan të pushtojnë botën?
Price
ALL360
Regular price
ALL400
 In stock
Publisher: Botart
Ky libër rrëfen historitë e 100 burrave të mrekullueshëm që realizuan arritje të mahnitshme pa nevojën e dhunës, ose ndjenjave shtypëse ashtu si mësohen djemtë që të bëjnë stereotipikisht. Një mësim shumë i mirë mbi burrërinë, dhe se si ju mund të jeni një djalosh po aq i vlefshëm edhe nëse vendosni të mos i ndiqni qorrazi stereotipat gjinore të shoqërisë...
Price
ALL1,350
Regular price
ALL1,500
 In stock
Reference: SKU001812
Publisher: Pegi
Title: Vogëlushja e Hënës së Gjashtë, Nina dhe Syri Sekret i AtlantidësOriginal: Nina e L'occhio Segreto di AtlantideCategory: NovelAuthor: Moony WitcherAlbanian translator: Albana NexhipiPublisher: PegiYear: 2010Pgs. 344Weight: 0.369 kgISBN: 978-99956-58-38-0
Reference: SKU002036
Publisher: Te tjere
Title: Hetuesit e Vegjël 4 - Misteri i Thesarit të MbyturOriginal: The Goose's GoldCategory: NovelAuthor: Ron RoyAlbanian translator: Marsel ToskaPublisher: JonaldaYear: 2011Pgs. 114Weight: 0.131 kgISBN: 978-99943-751-4-1
Publisher: Botart
Hëmm, gabim! Kur mamaja e saj thotë që kjo festë është me një kosto të pa përballueshme, duket sikur kjo festë ëndrrash do të kthehet në katastrofë. Shoqet e saj hartojne një plan për ta shpëtuar festën, a do ja dalin vallë?
Price
ALL900
Regular price
ALL1,000
 In stock