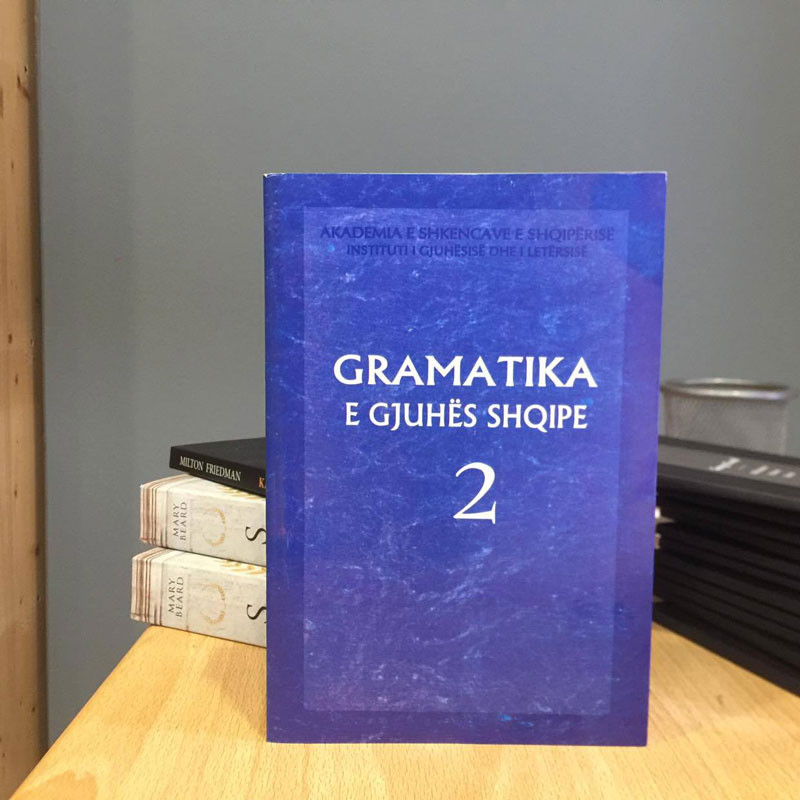  
Gramatika e gjuhës shqipe, vol. 2, Grup Autorësh
Title: Gramatika e gjuhës shqipe, vol. 2
Original: Gramatika e gjuhës shqipe, vol. 2
Category:  Linguistics
Author: Grup Autorësh
Publisher: Akademia e Shkencave Tiranë
Year: 2002
Pgs: 686
Weight: 0.715 kg
ISBN: 99927-761-7-X
16 other products in the same category:
Reference: SKU000224
Publisher: Te tjere
"Let's Learn Albanian" is designed to give practical knowledge of both spoken and written standard Albanian. The course is ideal for beginners and for those who want to deepen and consolidate their language knowledge. This course can be used for self-study or by those learning with a class.
Reference: SKU000293
Publisher: Cabej
Reference: SKU001558
Publisher: Te tjere
Title: Albanian for English-speakers (pocket dictionary) / Shqipja për Anglisht-folësit (fjalor xhepi)Communication practicing in all fields, grammar, dictionary English-Albanian. More than 8,000 expressions with pronunciation.Author: Luan KaceliPublisher: GrevisPgs. 488Weight: 0.26 kgISBN: 978-9956-94-
Reference: SKU000294
Publisher: Cabej
Title: Fjalor i gjuhës shqipe 1954Original: Fjalor i gjuhës shqipe 1954Category: DictionaryAuthors: K. Cipo, E. Çabej, M. Domi, A. Krajni, O. MyderriziPublisher: ÇabejYear: 2005Pgs. 654Weight: 0.951 kgISBN: 978-99927-33-49-7
Reference: SKU000380
Publisher: Albin
Title: Oxford Albanian-English Dictionary (Fjalor Shqip-Anglisht)* The most comprehensive dictionary of twentieth-century Albanian* Includes standard and non-standard AlbanianThe world's Most Trusted DictionariesEdited by: Leonard NewmarkPublishing house: Albin
Reference: SKU001517
Publisher: EDFA Botime
Title: Gramatika e gjuhës shqipeOriginal: Gramatika e gjuhës shqipeCategory: LinguisticsAuthor: Bahri BeciPublisher: EDFAYear: 2010Pgs. 256Weight: 0.401 kgISBN: 978-99927-867-7-9
Title: Albanian Verbs the art of conjugation, Batjar Bega, Sokol BegaCategory: DictionaryAuthor: Batjar Bega dhe Sokol BegaPublisher: Bs-booksYear: 2017Pgs:274Weight: 0.472 kgISBN: 978-9928-4352-3-1
Gjithçka që duhet të dini për gjuhën shqipe dhe përdorimin e saj. Libër i rekomanduar për mësues, studentë, gazetarë dhe për shkollat shqipe jashtë atdheut.
Publisher: Vernon Publishing
Practical Albanian for Foreigners: • Easy to use and practical • Full of dialogues, useful sentences, daily expressions and written exercises • A good foundation for learning Albanian grammar which is covered in the next book, Basic Albanian Grammar for Foreigners
Reference: SKU001853
Publisher: Te tjere
Title: 36 shkronjatOriginal: 36 shkronjatCategory: Didactic method for children of 5 - 6 years oldAuthor: Tatjana SiniPublisher: ElveYear: 2010Pgs. 88Weight: 0.251 kgISBN: 978-99956-12-39-9
Për herë të parë jepet në një fjalor gjuhësor shpjegues patronimet (mbiemrat ) e shqiptarëve, me një përzgjedhje sa më përfaqësuese, sepse gjithëpërfshirës ai nuk mund të ishte kurrësesi.
Reference: SKU000221
Publisher: Te tjere
The Albanian verb is arguably the most difficult part of the language to master for foreign students. Until now, a practical, clear, and succinct explanation of verbs in Albanian hasn't existed. Books already in existence were far too complicated for the average language learner, or had no practical features, such as tables and especially exercises.
Reference: SKU001979
Publisher: EDFA Botime
Title: Fjalor themelor i gjuhës shqipeOriginal: Fjalor themelor i gjuhës shqipeCategory: DictionaryAuthor: Pavli QeskuPublisher: EDFAYear: 2008Pgs. 804Weight: 1.231 kgISBN: 978-99943-920-8-7