There are no more items in your cart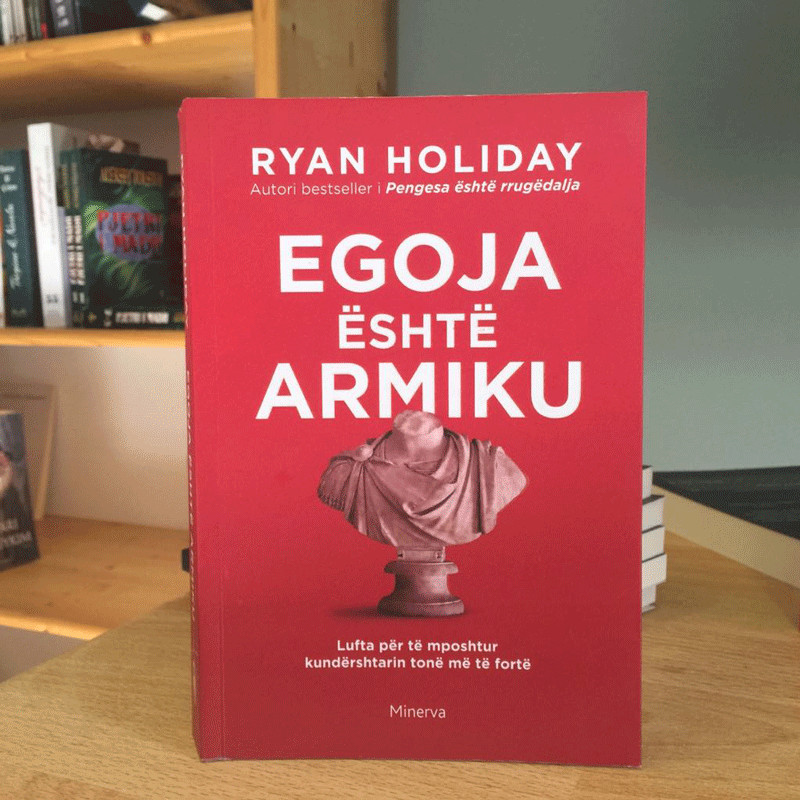  
Egoja është armiku, Ryan Holiday
Është një libër që duhet ta lexojë çdo sportist, çdo sipërmarrës, çdo mendimtar apo person që aspiron të bëhet lider.
16 other products in the same category:
Reference: 2228
Publisher: Elta BS
Title: Shkolla e biznesit, për ata që duan të ndihmojnë të tjerëtOriginal: The Bussiness SchoolCategory: Bussiness, self – help boskAuthor: Robert T. Kiyosaki, Sharon L. LechterAlbanian translator: Oltjona MuçajPublisher: Elta BSYear: 2009Pgs. 180Weight: 0.221 kgISBN: 978-9951-544-04-7
Alongside the evident progress of the women's movement, however, writer and journalist Naomi Wolf is troubled by a different kind of social control, which, she argues, may prove just as restrictive as the traditional image of homemaker and wife.
Reference: 2231
Publisher: Elta BS
Title: Mendo si një kampion Original: Think like a champion Category: Self – help book Author: Donald J. Trump, Meredith McIver Albanian translator: Rozeta Bici Publisher: Titanic Year: 2011 Pgs. 176 Weight: 0.20 kg ISBN: 978-9951-544-15-3
Reference: SKU001818
Publisher: Pegi
Cili prind nuk do të dëshironte të dinte se cili është sekreti, e fshehta, që do ta bënte djalin apo vajzën e tij të suksesshme?...Ky libër është vërtet një "shpellë", në fund të së cilës mund të zbulosh një thesar të madh, një sekret të çmuar, që mund të ketë vlera të jashtëzakonshme për ty...
Publisher: Te tjere
Malcolm Gladwell na tregon se të gjithë ne mund të bëhemi vendimmarrës më të mirë – në shtëpitë tona, në punë dhe në jetën e përditshme.
Reference: SKU000249
Publisher: Ideart
Title: 22 ligje të pandryshueshme të marketingutOriginal: The 22 immutable laws of marketingCategory: Marketing, businessAuthor: Al Ries, Jack TroutAlbanian translator: Gjergj DollaniPublisher: IdeartYear: 2005Pgs. 176Weight: 0.191 kgISBN: 978-99943-622-7-5
Publisher: Pema
Ai u jep përgjigje pyetjeve të tilla si "Cili është kuptimi i jetës?", "Si mund ta jetoj jetën me gjithçka që ofron ajo?", për të nxjerrë në pah mënyrën më të mirë për të qenë vetvetja.
Price
CHF8.82
Regular price
CHF9.80
 In stock
Publisher: Onufri
Title: Ti je ajo çfarë veshOriginal: You are what you wearCategory: PsychologyAuthor: Jennifer BaumgartnerAlbanian translator: Engjëllushe ShqarriPublisher: MinervaYear: 2013Pgs. 336Weight: 0.411 kgISBN: 978-9928-164-82-7
Reference: 2735
Publisher: Onufri
Reference: SKU001046
Publisher: Dituria
Publisher: Minerva
"Në kërkim të kuptimit" nuk përfaqëson vetëm historinë e triumfit të këtij njeriu të madh: ky punim është një gërshetim mes shkencës dhe humanizmi.
Reference: 2848
Publisher: Onufri