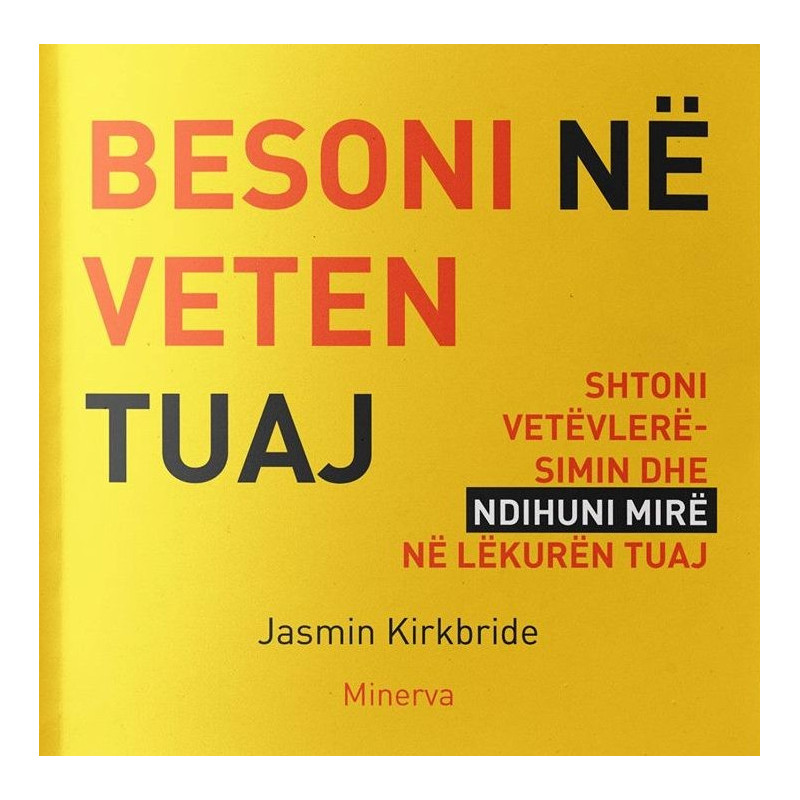  
Besoni ne veten tuaj, Jasmin Kirkbride
Title: Besoni në veten tuaj
Original: Believe in yourself
Category: Self – help book
Author: Jasmin Kirkbride
Albanian translator: David Hudhri
Publisher: Minerva
Year: 2017
Pgs: 160
Weight: 0.282 kg.
ISBN: 978-9928-4227-9-8
16 other products in the same category:
Përmes odisesë së tij të jashtëzakonshme, ne fitojmë një vlerësim të thellë për një dhuratë të cilën të gjithë e zotërojmë, por që shpeshherë e harrojmë.
Price
ALL1,260
Regular price
ALL1,400
 In stock
Price
ALL1,080
Regular price
ALL1,200
 In stock
Publisher: Te tjere
Këto mënyra të fshehura të vetëkontrollit mund të na çojnë në vetëshkatërrim, ndaj Hilli zbulon shtatë parime e suksesit, të cilat na mundësojnë ne të triumfojmë mbi to dhe të shkojmë drejt suksesit.
Reference: 2223
Publisher: Elta BS
Brian Tracy është orator profesionist, trajnues dhe konsulent, si dhe është kryetari i firmës "Brian Tracy International", një kompani trajnimi dhe konsulence me bazë në Solana Beach, Kaliforni. Sot, programet dhe seminaret e tij janë përkthyer në 35 gjuhë të botës dhe përdoren në 52 vende.
Reference: 2228
Publisher: Elta BS
Title: Shkolla e biznesit, për ata që duan të ndihmojnë të tjerëtOriginal: The Bussiness SchoolCategory: Bussiness, self – help boskAuthor: Robert T. Kiyosaki, Sharon L. LechterAlbanian translator: Oltjona MuçajPublisher: Elta BSYear: 2009Pgs. 180Weight: 0.221 kgISBN: 978-9951-544-04-7
Publisher: Te tjere
Title: Maska, gjuha e trupit: zëri i gjesteveOriginal: Maska, gjuha e trupit: zëri i gjesteveCategory: Self – help bookAuthor: Marion MardodajPublisher: PegiYear: 2013Pgs. 128Weight: 0.183 kgISBN: 978-9928-04-149-4
Publisher: Te tjere
Menaxherët që krijojnë mjedise shpërblyese dhe me energji të lartë, pakësojnë fitimin, ndërkohë që rritin në mënyrë të jashtëzakonshme prodhueshmërinë dhe cilësinë.