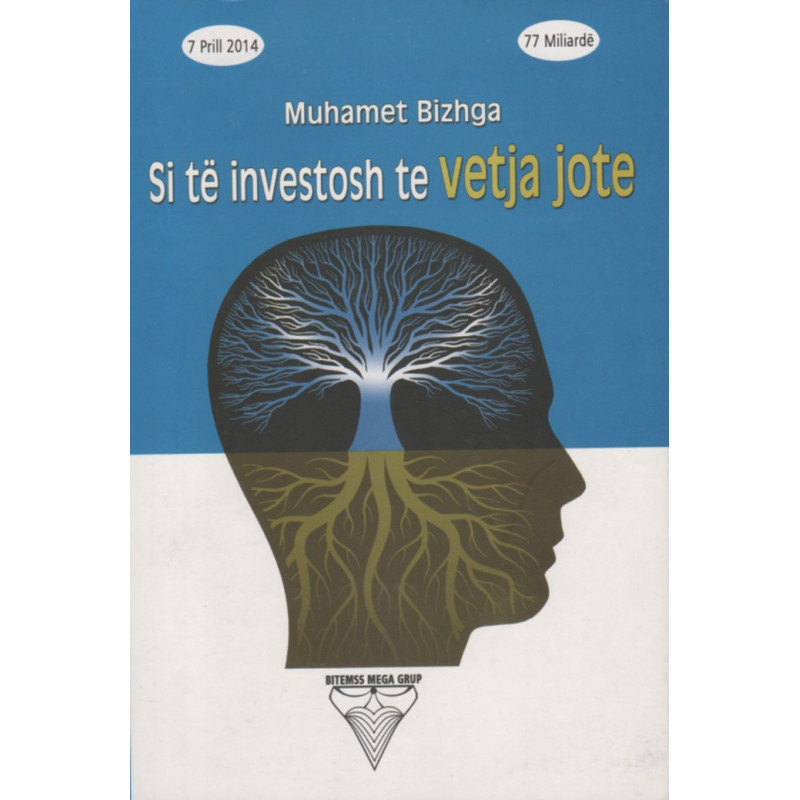  
Si te investosh te vetja jote, Muhamet Bizhga
Title: Si të investosh te vetja jote
Original: Si të investosh te vetja jote
Category: Self – help book
Author: Muhamet Bizhga
Publisher: Bitemss Mega Grup
Year: 2014
Pgs: 78
Weight: 0.175 kg.
ISBN: 978-99956-92-95-7
Reference: 2684
Publisher: Toena
Reference: 2937
Publisher: Toena
16 other products in the same category:
Reference: SKU001025
Publisher: Dituria
Publisher: Pegi
Title: 100 teste për të stërvitur kujtesënOriginal: 100 test pour entrainer sa memoireCategory: Self-help bookAuthor: Dr. Bernard CroisleAlbanian translator: Eldina NasufiPublisher: PegiYear: 2013Pgs. 128Weight: 0.311 kgISBN: 978-9928-162-46-5
Publisher: Living
Mësoni teknikat më të mira për të shkuar te blerësit në kohë reale, rritni shikueshmërinë e profileve dhe biznesit tuaj në internet dhe do të rritni edhe shitjet. Për profesionistët, sipërmarrësit, pronarët e një biznesi dhe profesorët e fushës, ky udhëzues ofron strategji të sigurta, që mund të zbatohen menjëherë.
Reference: SKU001743
Publisher: Elta BS
Title: Fuqia e së tashmes - Udhëzues drejt ndriçimit shpirtërorOriginal: The power of nowCategory: Self-helpAuthor: Eckhart TolleAlbanian translator: Viola GjylbegajPublisher: Elta BSYear: 2011Pgs. 240Weight: 0.271 kgISBN: 978-9951-544-17-7
Reference: 2848
Publisher: Onufri
Reference: SKU001658
Publisher: Elta BS
Title: Arti i shitjes, Çfarë duhet të dijë çdo profesionist i suksesshëm shitjeshOriginal: Selling 101Category: MarketingAuthor: Zig ZiglarAlbanian translator: Dritan BabasuliPublisher: Elta BSYear: 2007Pgs. 104Weight: 0.131 kgISBN: 978-9951-8688-3-9
Publisher: Pema
Ichigo ichie, arti japonez i të jetuarit momente të paharrueshme.