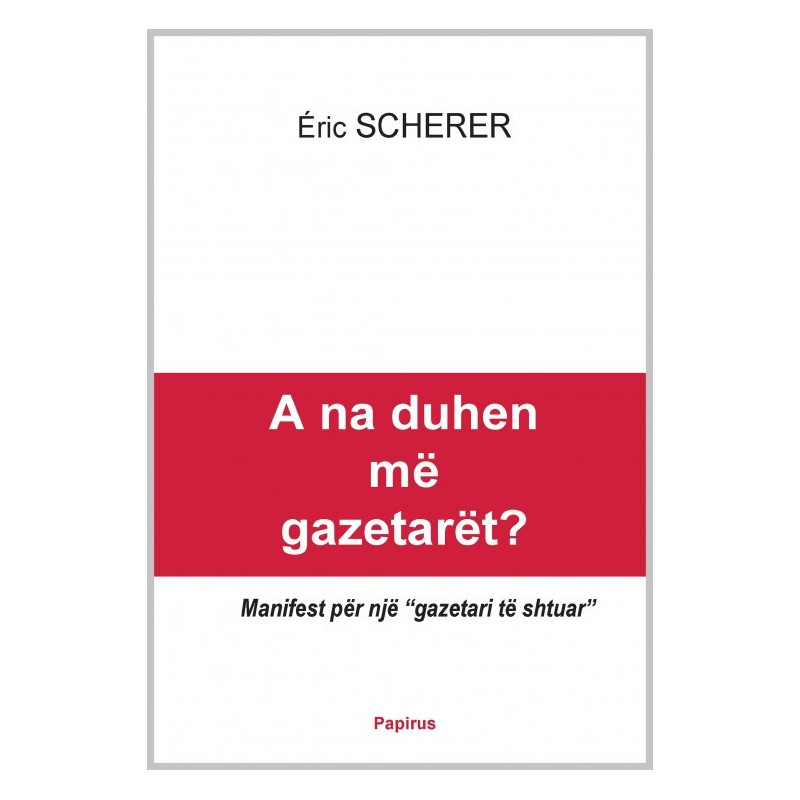  
A na duhen me gazetaret, Eric Scherer
Title: A na duhen më gazetarët?: Manifest për një ''gazetari të shtuar''
Original: A-t-on encore besoin des journalistes?
Category: Social sciences, journalism
Author: Éric Scherer
Albanian translator: Tomi Nakuçi
Publisher: Papirus
Year: 2012
Pgs: 190
Weight: 0.301 kg.
ISBN: 978-9928-4153-3-2
16 other products in the same category:
Reference: SKU001265
Publisher: Te tjere
Title: LiberalizmiCategory: PhilosphyAuthor: Leonard HobhouseAlbanian translator: Gjergj PeçiPublisher: IPLS & Dita 2000Year: 2005Pgs. 170Weight: 0.211 kgISBN: 978-99943-942-9-6
Publisher: Fan Noli
Po pse atëherë të sulmohet Marksi? Pavarësisht nga meritat e tij, unë besoj se Marksi ishte një profet i rremë. Ai ishte një profet i zhvillimit të historisë, por profecia e tij nuk rezultoi e vërtetë, megjithatë kjo nuk është akuza kryesore.
Reference: SKU000288
Publisher: Te tjere
Title: Kështu foli Zarathustra, pjesa e tretë dhe e katërtOriginal: Also sprach ZarathustraCategory: PhilosophyAuthor: Friedrich NietzscheAlbanian translator: Lluka QafokuPublisher: PhoenixYear: 2001Pgs. 160Weight: 0.164 kg
Reference: SKU001259
Publisher: Te tjere
Title: Frika prej dijes, kundër relativizmit dhe konstruktivizmitOriginal: Fear of knowledge, against relativism and constructivismCategory: PhilososphyAuthor: Paul BoghossianAlbanian translator: Bashkim ShehuPublisher: ISP & Dita 2000Year: 2008Pgs. 164Weight: 0.202 kgISBN: 978-99943-57-40-6
Reference: SKU001980
Publisher: Plejad
Title: DialogjeOriginal: DialoghiCategory: PhilosophyAuthor: SenekaAlbanian translator: Alda MukliPublisher: PlejadYear: 2004Pgs. 184Weight: 0.232 kgISBN: 978-99943-640-2-2
Reference: SKU000153
Publisher: Ideart
Title: UtopiaOriginal: UtopiaCategory: PhilosophyAuthor: Thomas MoreAlbanian translator: Erion KristoPublisher: IdeartYear: 2003Pgs. 152Weight: 0.191 kgISBN: 978-99927-889-1-7
Reference: SKU001466
Publisher: LIRA
Title: Manual i kulturës së përgjithshmeOriginal: Manuel de culture généraleCategory: History, cultureAuthor: Jean-François Braunstein, Bernard PhanAlbanian translator: Bajram MuçaShtëpia botuese: LIRAYear: 2008Pgs. 448Weight: 0.736 kgISBN: 978-99956-34-087
Reference: SKU000676
Publisher: Ideart
Title: Frojd, një hyrje e shkurtërOriginal: Freud, a very short introductionCategory: PsychologyAuthor: Anthony StorrAlbanian translator: Erion KristoPublisher: IdeartYear: 2007Pgs. 176Weight: 0.224 kgISBN: 978-99943-43-57-7
Publisher: Te tjere
Friedrich Nietzsche ka qenë një ndër mendimtarët më subversiv dhe revolucionar në filozofinë perëndimore dhe "Kështu foli Zarathustra" mbetet vepra më e famshme dhe më me ndikim e tij. Përshkruan profetin antik persian Zarathustrën dhe zbritjen e tij nga vetmia në male për t'i treguar botës se Zoti ka vdekur dhe se Mbinjeriu, mishërimi njerëzor i...
Reference: SKU000674
Publisher: Ideart
Title: Filozofia Antike, Një hyrje e shkurtërCategory: PhilosophyAuthor: Julia AnnasAlbanian translator: Shpëtim DodaPublisher: IdeartYear: 2008Pgs. 176Weight: 0.211 kgISBN: 978-99943-43-65-2