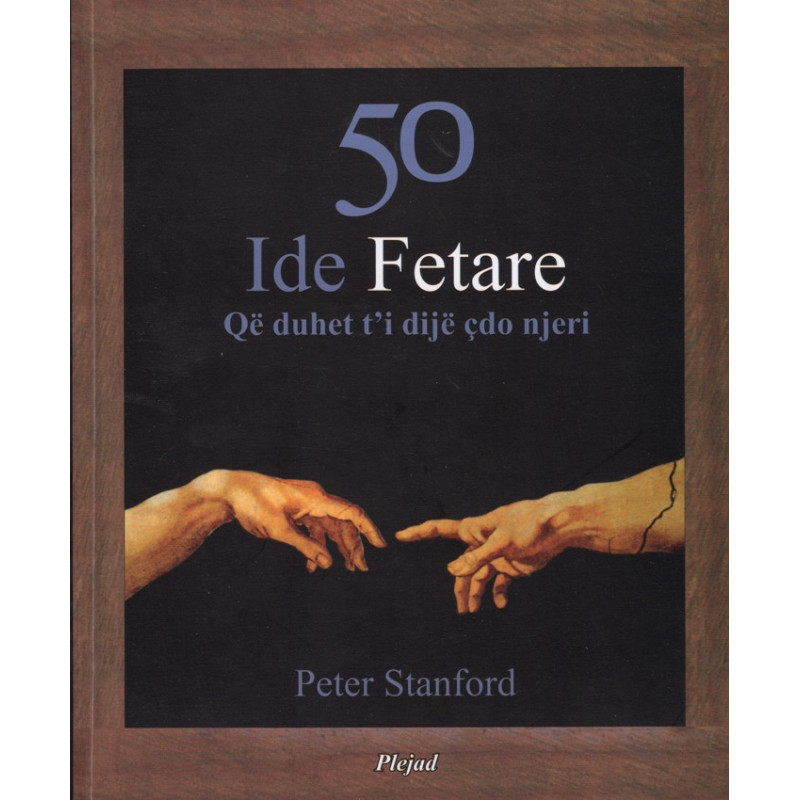  
50 ide fetare qe duhet t'i dije cdo njeri, Peter Stanford
Title: 50 ide fetare që duhet t'i dijë çdo njeri
Original: 50 religious ideal you really need to know
Category: Social sciences
Author: Peter Stanford
Albanian translator: Ilirjana Angoni
Publisher: Plejad
Year: 2012
Pgs. 208
Weight: 0.288 kg
ISBN: 978-99956-57-86-4
Title: 50 ide fetare që duhet t'i dijë çdo njeri
Original: 50 religious ideal you really need to know
Category: Social sciences
Author: Peter Stanford
Albanian translator: Ilirjana Angoni
Publisher: Plejad
Year: 2012
Pgs. 208
Weight: 0.288 kg
ISBN: 978-99956-57-86-4
Reference: SKU001607
Publisher: Plejad
Reference: 2762
Publisher: Plejad
Title: 50 ide politike që duhet t'i dijë çdo njeriOriginal: 50 political ideas you really need to knowCategory: PhilosophyAuthor: Ben DuprèAlbanian translator: Ilirjana AngoniPublisher: PlejadYear: 2012Pgs. 208Weight: 0.291 kgISBN: 978-99956-57-87-1
Reference: 2778
Publisher: Plejad
Title: 50 ide filozofike që duhet t'i dijë çdo njeriOriginal: 50 philosphy ideasCategory: PhilosophyAuthor: Ben DuprèAlbanian translator: Enkelejd MusabelliuPublisher: PlejadYear: 2010Pgs. 208Weight: 0.293 kgISBN: 978-99956-57-30-7
16 other products in the same category:
Reference: SKU001265
Publisher: Te tjere
Title: LiberalizmiCategory: PhilosphyAuthor: Leonard HobhouseAlbanian translator: Gjergj PeçiPublisher: IPLS & Dita 2000Year: 2005Pgs. 170Weight: 0.211 kgISBN: 978-99943-942-9-6
Reference: 2483
Publisher: UET Press
Title: Marrëdhëniet publikeOriginal: Public relations, the complete guideCategory: Social sciencesAuthor: Joe MarconiAlbanian translator: Petro Plasa, Aurora GuxholliPublisher: UET PressYear: 2010Pgs. 280Weight: 0.474 kgISBN: 978-99956-39-38-9
Reference: SKU001426
Publisher: LIRA
Title: Perandoria e se Keqes kunder Djallit te MadhOriginal: Empire du mal contre grand SatanCategory: Political sciencesAuthor: Claude LiauzuAlbanian translators: Bajram Muça, Liliana Papa, Brizeida VeliajPublisher: LiraYear: 2010Pgs. 442Weight: 1.321 kgISBN: 978-99956-45-35-9
Reference: SKU000681
Publisher: Ideart
Title: Socializmi, një hyrje e shkurtërOriginal: Socialism, a very short introductionCategory: PhilosophyAuthor: Michael NewmanAlbanian translator: Elton TahirllariPublisher: IdeartYear: 2007Pgs. 200Weight: 0.252 kgISBN: 978-99943-776-9-5
Reference: 2505
Publisher: Ideart
Title: Shopenhauer, një hyrje e shkurtërOriginal: Schopenhauer, a very short introductionCategory: PhilosophyAuthor: Christopher JanawayAlbanian translator: Albana KozeliPublisher: IdeartYear: 2009Pgs. 152Weight: 0.192 kgISBN: 978-99943-720-3-3
Reference: SKU001916
Publisher: Zenit Editions
Title: Arti i Luftës tek romakëtOriginal: Considèrations sur les causes de la grandeur des romains et de leur dècadenceCategory: PhilosophyAuthor: Sharl MonteskjeAlbanian translator: Qemal VelijaPublisher: Zenit EditionsYear: 2010Pgs. 64Weight: 0.06 kgISBN: 978-9928-4005-4-3
Reference: SKU000617
Publisher: Te tjere
TitulliRruga në të cilën rrallë shkohetPjesa e dytëAutoriScott PeckLibër për ngritjen shpirtërorePërktheuLatif AjrullaiShtëpia botueseAlbas, 2003f. 160Pesha: 0.17 Kg.
We live in a moment when the greatest act of love is to stay distant from the object of your affection. When governments renowned for ruthless cuts in public spending can suddenly conjure up trillions. When toilet paper becomes a commodity as precious as diamonds.
Publisher: Plejad
Që kur u lodha së kërkuari,Unë mësova të gjej.Që kur një erë më ngadalësoi anij enNisem për lundrim sapo fi llojnë erërat.
Reference: 2867
Publisher: Plejad
Title: Oriental apo OkcidentalOriginal: Oriental apo OkcidentalCategory: Political sciencesAuthor: Krist MalokiPublisher: PlejadYear: 2003Pgs. 168Weight: 0.181 kgISBN: 978-99927-846-4-4
Reference: SKU000226
Publisher: Te tjere
Title: Filozofi bashkëkohore 1Original: Filozofi bashkëkohore 1Category: PhilosophyAuthor: Dr. Adriana Anxhaku (Zeneli)Publisher: AfërditaYear: 2007Pgs. 296Weight: 0.473 kgISBN: 978-99927-58-17-5
Reference: SKU000161
Publisher: Ideart
Title: Gjurmë armikeCategory: PhilosophyAuthor: Eliot WeinbergerAlbanian translator: Lluka QafokuPublisher: IdeartYear: 2007Pgs. 264Weight: 0.317 kgISBN: 978-99943-43-41-6