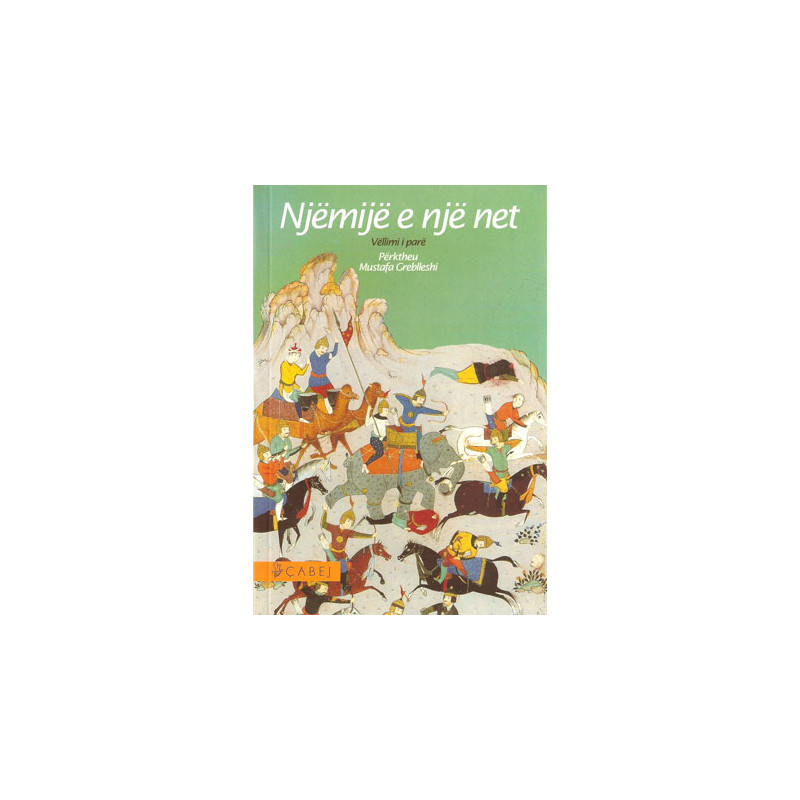  
Njemije e nje net, vol. 1
Title: Njëmijë e një net, vëllimi i parë
Category: Fairytales
Albanian translator: Mustafa Greblleshi
Publisher: Çabej
Year: 2005
Pgs: 244
Weight: 0.321 kg.
Reference: SKU000208
Publisher: Cabej
Reference: SKU000210
Publisher: Cabej
Reference: SKU000245
Publisher: Cabej
Seti i plotë i përrallave arabe, shqipëruar nga Mustafa Greblleshi. (Përmban katër libra)
16 other products in the same category:
Reference: SKU001012
Publisher: Dituria
Reference: SKU000171
Publisher: Ideart
Publisher: Te tjere
The first and most famous of Daniel Defoe's novels was Robinson Crusoe, which was published in 1719, when he was nearly 60 years old, and it was a great succes. This story shows how human beings are capable of overcoming difficulties throught effort, patience and ingenuity, at the same time as it shows our need to communicate and from part of a society.
Reference: SKU000329
Publisher: Ideart
Publisher: Dituria
Por kur Mikilit gjashtëmbëdhjetëvjeçar i kërkohet të kujdeset për një pilot britanik të plagosur, nuk mendohet dy herë. I bashkohet luftës së fshehtë kundër nazistëve, duke punuar çdo ditë për t'i dhënë fund pushtimit dhe për të mbrojtur ata që janë në rrezik, pa harruar për asnjë çast se spiunët janë kudo dhe qoftë edhe një fjalë e lëshuar pa menduar,...
Price
ALL630
Regular price
ALL700
 In stock
Publisher: Aeditions
Kjo seri librash e ndihmon fëmijën të ndërgjegjësohet për botën që e rrethon dhe e shoqëron që ta zbulojë atë. Po ashtu, i zgjon kureshtjen, i zhvillon aftësitë dhe i nxit krijimtarinë.
Publisher: Bota Shqiptare
Të ëndërrojmë të dy,  gjigantë me një sy. Më lexon një përrallë në shtratin e butë?
Publisher: Botart
Njihuni me Nedin, djalin e jashtëzakonshëm me një superfuqi krejt të veçantë. ZHULFUQINË!
In Moby Dick, Melville reflects on evil as represented in the principal characters: on the one hand the whale, which represents seseless evil, as it destroys everything it cames across, ao the other hand Captain Ahab, who represent a stubborn evil, as his personal hatred and desire for revenge makes him hunt the whale down, even though he is putting his...
Publisher: Bota Shqiptare
"Të voglat përralla të Mëdha" i ndihmojnë fëmijët të rriten së bashku me librin dhe u mundësojnë prindërve të kalojnë kohë me ta.
Price
ALL360
Regular price
ALL400
 In stock
Reference: SKU000963
Publisher: Dituria
Reference: K8R5
Publisher: Ideart
Autoritetet po i afrohen gjetjes së fajtorit, por, kur vendin e godet një stuhi e papritur, familja Hefli ngecet brenda në shtëpi.